01/2018 – New Gate Marks 450th Anniversary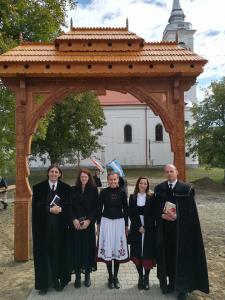 This year marks the 450th anniversary of the Edict of Torda, which allowed local communities to freely elect their preachers rather than following the state church.
Inspired by the anniversary, our partner church in Szekelyzentmihaly completed a beautiful new gate welcoming people visiting the church. This style of gate is seen everywhere in the Szekely region of Transylvania and is a beautiful art form. There are dozens of gates at residences in our village, each with unique carvings.
01/2017 – An Update from Tamás & Kinga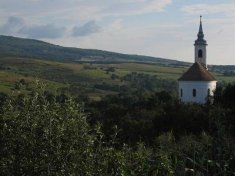 Tamás & Kinga sent a long letter about events in Szekelyszentmihaly. Highlights include:
Tamás and Kinga will welcome a new baby in September.
In November, the bishop will visit; an event that only happens every 35-40 years. This is a huge event!
There will be a ceremonial inauguration for Tamás.
One-quarter of the church was re-roofed before Christmas.

05/2016 – UUCM Welcomes Partner Church Minister and Family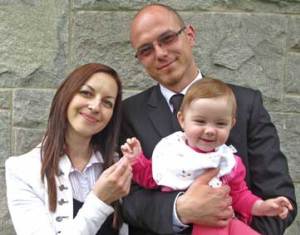 Reverend Tamás Tófalvi visited UUCM from our Partner Church in Szekelyszentmihaly, Transylvania. He was accompanied by his wife Kinga, who is an English teacher, and their 8-month old daughter. Connect to their Facebook site, and read more about Rev. Tamás Tófalvi and his family.
During their 3-week stay in Milford, NH, the Tófalvis attended numerous church and local activities and visited Boston, New York City, and the Maine coast. See photos from their visit.
Rev. Tófalvi participated in the regular 10:30 am church services during their visit. Read his Reflections from May 22 or May 29.
08/2014 – Partner Church's New Minister
The enthusiastic new English-speaking minister, Tamás Tófalvi, is bringing new energy into Székelyszentmihály parish. His many diverse projects are increasing the involvement of people in church and parish activities. Read Rev. Tófalvi's letter.